Last month we had the honor to co-write with Radiant on the topic of how BLE Beacon Technology compares with RFID in the Supply Chain. The findings speak for themselves.
Some highlights:
A BLE beacon uses less power than RFID tags, which means they can run for longer periods of time without needing to be recharged or replaced. This makes them ideal for businesses that need to track assets 24/7.
BLE beacons are more accurate than RFID tags, thanks to their ability to triangulate the position of nearby devices. This allows businesses to get real-time data on the location of their assets, which is essential for effective asset management.
A BLE beacon offers a number of additional features that RFID tags don't, such as the ability to trigger push notifications and track environmental conditions. This makes them a more versatile solution for businesses that need to get the most out of their location-based data.
BLE beacons are less expensive than RFID tags, making them a more cost-effective solution for businesses. It may be possible to transmit continuous radio transmissions with active RFID. But, the most significant disadvantage of an RFID system is its overall expense, which is much greater than that of Bluetooth. Passive RFID labels can be inexpensive, but the necessary RFID readers can cost thousands of dollars each. As a result of these advantages, more and more companies are ditching RFID and moving to BLE technology.
The full article co-written with Radiant can be found here.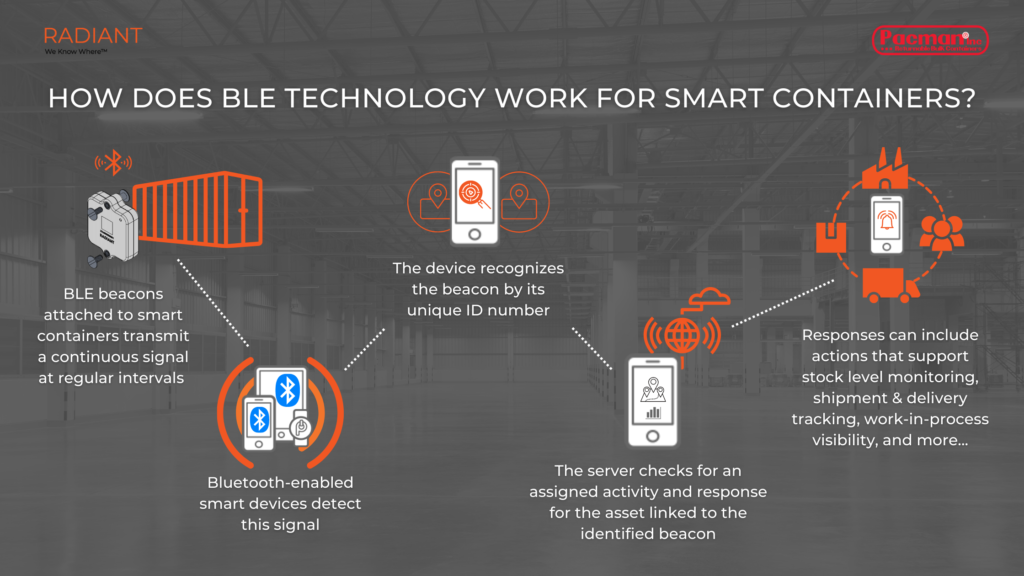 Did you know, our rental containers at Pacman Inc. come with beacons already attached and ready to track? Visit our BLE Tracking page to learn more.
Want to learn more about Pacman? Visit our About Us page to learn more or contact us anytime.